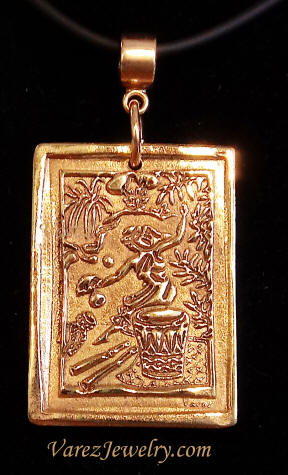 Hawaiian Hula Dancer
Solid Bronze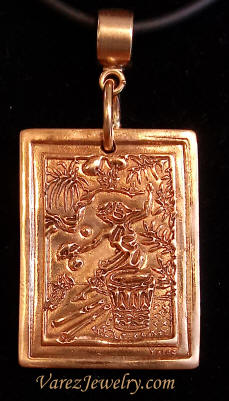 Hawaiian Hula Dancer
Solid Copper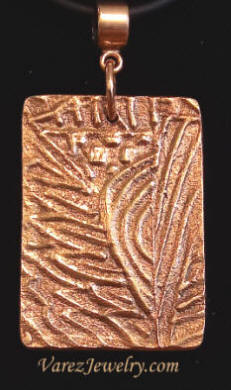 Hawaiian Hula Dancer
Sculpted Design on Back
..Click Here to read more about
the ancient Hawaiian dance of Hula...
Available in Sterling Silver, Vermeil, 24K over Bronze, and Copper
FREE SHIPPING FREE GIFT BOX
---
Hawaiian "Hula Kahiko" Dancer


"A Hawaiian Hula dancer gracefully embraces the tradition of the ancient Hula Kahiko. She is surrounded by her favorite Hula implements Pu

ʻ

ili and

ʻ

uli

ʻ

uli, and tropical plants, and dances to honor her ancestors".

A perfect gift for anyone that enjoys Hula, dances Hula, or just has an appreciation for Hawaiian Culture and the islands itself. A true handmade gift that brings the ALOHA of Hawaii to the heart and home.

This elegant pendant is handmade and available in SOLID BRONZE or SOLID COPPER. Made one at a time no two are exactly alike. Fired on top of the only active Volcano in the United States, "Hawaii Kilauea" the land of hot lava and the home of Pele. This magical place is surrounded by lush green rainforests, and we are proud to have created this unique piece of wearable art in this unique place. We are sure it will bring many years of enjoyment.

To show off your Varez Wearable Art we offer three types of Deluxe Gift Boxes for you to choose from. And we include your choice FREE TODAY!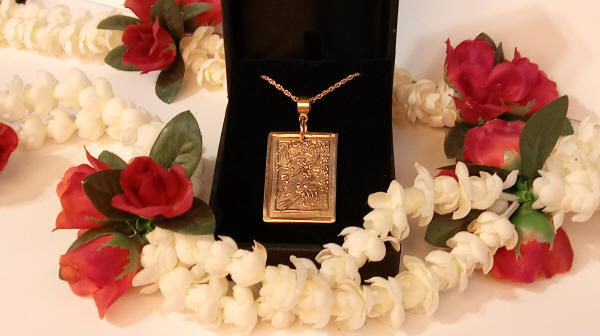 Each Varez Collection Wearable Art Desing comes in a Deluxe Velvet Lined Gift Box ( Lei not included ).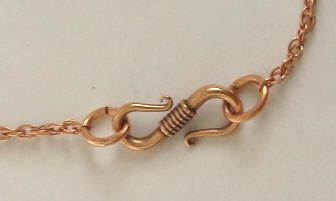 This Pendant includes a high quality solid Bronze Rope Chain with a beautiful solid Bronze S-Clasp. You can choose the lenght of the chain ( 18", 20", 22", 24" or 26" ).

To make this even more unique, each piece of Varez Wearable Art has a one-of-a-kind hand-sculpted design on the back ( see picture to the left ) that is unique to each piece, so no two are exactly alike, and your pendant is a true one-of-a-kind. . The textured back gives each creation a wonderful multi-dimensional feel and some people even wear the back design in the front.

PRICING:

925 Sterling Silver

/ $ 225.00

SALE / Reg. $265.00

VERMEIL - 24K Gold over solid 925 Sterling Silver / SALE: $240 / Reg. $290

24K Gold over Jeweler's Grade Bronze / SALE: $185 / Reg. $225
Dimensions: 26mm wide x 37mm tall

$ 155.00 | Jeweler's Grade Bronze / SALE: $155 / Reg. $185
Dimensions: 22mm wide x 31mm tall

$ 155.00 | Jeweler's Grade Copper / SALE: $155 / Reg. $185
Dimensions: 22mm wide x 31mm tall

* as each piece is handmade, sizes are approx.and slight variations are normal.

To order, please make your selections below and submit your billing and shipping information via the standard order process. We will personally confirm your order, and your credit card won't be charged till it is ready to ship. If you have any questions, please feel free to call us anytime at 808-985-8827. Thank you for your interest in the Dietrich Varez Collection of Wearable Art!