Pele at Kilauea Volcano
SOLID BRONZE
With solid bronze rope chain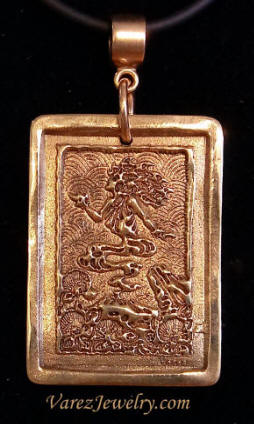 Pele at Kilauea Volcano
SOLID BRONZE
With black waxed cotton cord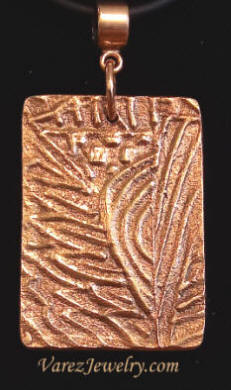 Pendant Back

With hand-designed textured back
( Each back is unique - no two are alike )
...Interested in more information about Pele ?... Click Here to read more about it ..
EMAIL TO A FRIEND
---
Pele at Kilauea Volcano

Pele is the goddess of fire, lightning, wind and volcanoes and the creator of lava and the Hawaiian Islands. Often referred to as "Madame Pele" or "Tūtū Pele" as a sign of respect, she is a well-known deity within Hawaiian mythology, and is notable for her contemporary presence and cultural influence as an enduring figure from ancient Hawaii.

In this piece of Wearable Art, Pele is shown as emerging from her home, Kilauea Volcano Crater, and she is surrounded by the Lehua Blossoms of the Ohia tree.

The pendant is handmade, one at a time, of Solid Bronze and finished with a heavy layer of 24K Gold which makes it very durable and it won't tarnish. Solid bronze is much harder than some other metals and therefore it is more difficult to work, and it takes great skill and more labor to achieve a fine finish.

Each pendant is hand-sculpted with amazing details and fired with real coconut, which gives it a unique finish and texture. The design tself is based on one of Dietrich Varez's famous wood block prints, and just like his prints, each pendant is made one at a time. No two are exactly alike.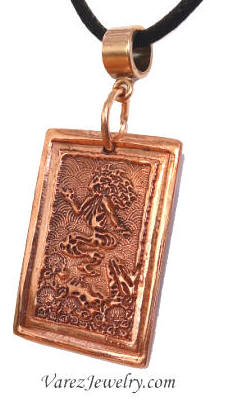 This pendant is available in Heavy 24K Gold over Solid Bronze, Natural Solid Bronze and Solid Copper. Chain included ( your choice of 18", 20", 22", 24" ).

Each piece of Varez Wearable Art has also a one-of-a-kind hand-sculpted back that is unique to each peace. No two are exactly alike. The textured back gives each creation a wonderful multi-dimensional feel and you can also sometimes just wear the back design to the front.
So it is like two pieces in one design.





Pele Pendant Item # V17001


#V17001K PELE - Heavy 24K Gold over Solid Bronze
Dimensions:
Includes chain ( 24K Gold over solid bronze chain )



#V17001B PELE - Solid Bronze
Dimensions: 27mm wide x 38mm tall
Includes solid bronze chain.

#V17001C PELE - Solid Copper
Dimensions: 22mm wide x 31mm tall
Includes black waxed braided cotton cord with solid bronze S-clasp and bail.
* as each piece is handmade, sizes are approx., and slight variations are normal.

TO INQUIRE - PLEASE CALL 808-987-0920 -